Back in September I was desperately looking for a local hair stylist to do an emergency color touch up for me, my only criteria was that she was walking distance from where I lived and had a 4 star review.
I resorted to YELP and narrowed my search down to a stylist that was 2 blocks away, had rave reviews, and a fun salon name "the urban chair". Unfortunately everyone else had the same idea as me; she was fully booked for the next 2 months. However, she was nice enough to point me in the direction of another salon that was a block away.
I made my way to Arrow Salon and was given an appointment right away. While my hair was beautifying I couldn't also help but notice the beautiful space I was in. The high ceiling and large windows allowed the sunlight to spread to every nook and cranny, giving the space a grand yet earthy feeling.
Right then I had an idea, what if we used this space to host a meditation class???
Two hours later I walked out of the salon with my hair done and an exciting new possibility to take meditation out of the studios and into the streets.
And just like that the Pop-up Meditation Lab was born.
My vision is to partner with local businesses (art galleries, museums, hair salons, cafes, stores) to host free meditation classes so people from the community could come and explore what it is all about, anytime and anywhere.
Meditation doesn't have to be limited to quiet centers at that the top of a mountain. The reality is noise happens, and learning how to stay in stillness amongst the noise is a powerful ninja trick! That's what we do at the Pop Up Meditation Lab, we sit in silence while the world outside (and inside) is doing what it does… being loud.
Eevery month since the debut Pop- up Meditation Lab in October I'm humbled by the interest and community support.
So what's next….  I'm excited to announce the upcoming Pop-up Meditation Lab in partnership with Lululemon SF Centre on Sunday March 1st at 7pm. And I'm personally inviting you to be my guest at this Pop-up.
It's completely free of charge and all you need to bring is something to sit on and an open mind. Of course any and all friends of yours are also invited, please invite them using this link.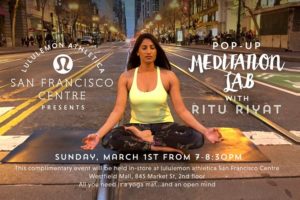 (Yes, that's me sitting in the middle of Market Street)
I learned a huge lesson throughout this journey and that is to always always always listen to your grand idea and just ASK, you never know what may come out of it.
In Gratitude ,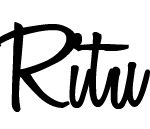 P.S. 
Mindful Monday is coming back! 
Back by popular demand image-spiration delivered straight to your inbox every monday so you can shift your Monday from manic to mindful! Stay tuned, the mindfulness drops next Monday. If you haven't already be sure to get on the list. 
P.P.S
The 21 Day Stress Detox our signature program, will be launching  in March 23rd  (just in time for tax season). Here's what others have said about this life altering program. 
What are you going to ask for next?