Happy Summer Solstice!!!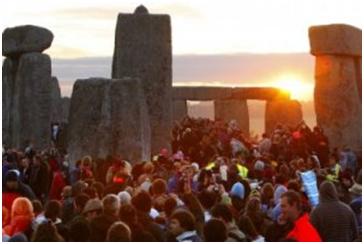 Today officially marks the start of summer and the longest day of the year. If you are looking to get some rays then definitely enjoy the outdoors today. The summer solstice has been celebrated across civilizations, new and old, for years. One of the most famous celebrations pictured above is the sunrise over the Stonehenge. However these celebrations were more than an excuse to party or pray, they change of the season was and is essential to well being. Back in the day people followed the calendar very closely so they knew what to expect and how to prepare, whether it was rains or sunshine. With today's technological advancements, we are slightly disconnected from our primal instinct but they are there at the center core of us. Summer season is revered in agricultural societies as it is the time for creativity and transformation, and it is a time to reap the fruits of the seeds that were sown last season. It is also a time when we crave fresh invigorating foods that are packed with nutrients.
Here are some food favorites to fill your fridge with this summer (by Well sphere):
1- Summer Vegetables
The fresh produce out and about now is amazing and the choices of salads are mouth wateringly good. Keep your eye out for the following:
Rocket/Arugula – Great with some Balsamic vinegar and parmesan shavings
Cucumber – A refreshing addition to any salad or great to cut into slices and use for dipping
Avocados – Probably the best food going to accompany some good meat or chicken
Mushrooms – In summer more variations crop up. Great to add to meat dishes especially when grilled
One thing you will find with vegetables that come into season in the summer is that they are all very water based and hugely refreshing in contrast to the starchier and filling winter vegetables.
2- Grass Fed Beef/ Organic Poultry and Seafood

Although it's not really a summer food, if you are meat eater then summer might be a good time to experience it organically. Poor quality beef from ill and steroid filled cows is indeed bad for your health. It is a bit more expensive to go organic but the benefits may outweigh the cost.
The US Department of Agriculture has approved the feeding of sawdust, plastic chips, industrial waste, sewage, cement dust, and dead animal parts to commercially raised animals. These are toxins, and the body stores toxins in fat.

This causes the animal to pack on tremendous amounts of fat because all animal bodies, including humans, use fat to wall toxins off away from the nervous system and the vital organs. When they sell these animals, they don't do body fat checks on them and say that some are too fat.

So what they're essentially doing is selling us huge amounts of toxic fat. Red meat isn't bad for you, but commercially raised and poisoned meat is.

3- Hot Peppers
Unfortunately I didn't inherit my cultures spice tolerance, but there are benefits to having a little kick in your foods, especially in the summer.
Some say hot food cools you down in the summer by making you sweat, others say spicy stuff fires off your internal cooling mechanism, and there is no coincidence that people who live in hot countries like India and Thailand have a knack for spicy foods.
Sprinkle some chili on your salad or fresh fruits. Here are some benefits from spicy food:
Improved Circulation – Thanks to the increase in blood flow caused by the spice which gets your heart pumping.
Improved Sleep – Some

research

has shown that spicy foods can help you nod off at night and even wake up more easily.
Better Digestion – Although some people claim they can't handle spicy foods due to the heart burn it causes this is actually not true. Spicy food actually improves secretion of stomach acid allowing for better digestion and breakdown of food.
4- Dips

These are two of the best foods to use in the summer thanks to their versatility and ability to be made at home fresh.
Both these awesome recipes are so easy to make. Use them to dip some fresh summer vegetables like cucumbers, carrots or celery.
So with that being said, try eating with the seasons and visit your local farmers market or your own garden to enjoy the many fruits and veggies that will be overflowing the vines. Summer is also the time for bbqs, festivals, and outings. Also with the abundance of fresh fruits and veggies we may overlook our protein quantity. A few reminders:
Remember to stay balanced: 1/3 protein, 2/3 veggies
Drink plenty of water to help flush out toxins and keep from overeating
Sleep: It may be bright outside but our bodies still need rest. Get your 6-8 hours.
Meal Timings: Life may get busy, in a good way, don't skip out on meals. Be prepared with snacks.
Enjoy the summer solstice and hope you all get some rays!
Nutritionize!

Ritu